Cold Porcelain Recipe
I am sure you can find cold porcelain recipe easily online. I tried more than 5 recipes as suggested by others before finally I settled down with my own recipe. 
I didn't invent this as it was there. But I did a little bit of experiment with material compositions. The result? I could say I have almost unbreakable cold porcelain clay.
I threw my half finish figurine to the floor from about 1 meter high and it stays as it is - no broken shoes. 
I am not sure what ingredient make it that way but I could say this is happening after I added stearin (stearic acid)  which is normally used to make candle.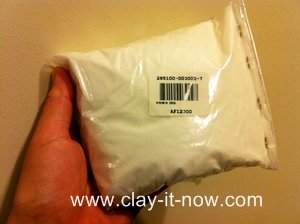 Materials & Tools :
1 cup Elmer's Glue 
1/2 cup Corn Starch,
1/2 table spoon Stearin (Stearic Acid),
1 1/2 table spoon glycerin,
1 1/2 tablespoon Vaseline 
1/2 table spoon Citric Acid
Non-stick pan (don't use this pan for food), 
Measuring cups, 
Ladle and baking paper

Steps to Make Cold Porcelain Clay:

First step: pour your glue on to non-stick pan together with other ingredients. Mix them lightly, put the pan on the burner with smallest flame possible. Continue stirring until all ingredients mix well and then add corn starch little by little. 

Second step: continue stirring until it gets sticky and stickier. It will become heavy and hard to stir but continue until you can lift up the clay from the pan.

Cover your kitchen bench with baking paper (non-stick paper) and place your clay on it. It would be hot, little bit sticky in the beginning and you may have uneven lumps here and there. 
Knead the clay for about 20 minutes until it smooth and didn't stick on to your fingers. 
Divide the clay to few smaller sizes and let it cool down. 
Keep the clay in sealed plastic bag. You can color the clay now with food color, acrylic, pastel or water colors.

Other Recipes:
Salt Dough
This type of modeling material will dry hard like stone after sometimes. It's easy to make but the texture won't be as smooth as others. Ideal for hanging decorations for Christmas tree, etc.
Read more for Salt Dough recipe...
Soapy Clay
I like soapy clay for its fragrance. The soap added to the clay ingredients will help to preserve your model. And, it will dry hard. Good clay to make souvenirs!
Read more for Soapy Clay Recipe...
No Cook Play Dough
This type of modeling material is best for kids at any ages even as young as 1 year old. But, supervision is always good when baby and toddler playing with it.
You need only about 15 minutes to make this type of dough. However, this quick and easy clay may not dry well depends on the humidity level and climate in your home country. 
Read more for No Cook Play Dough recipe...
Candy Clay
It is an edible modeling dough for young artists who are into cake decorating. This sweet clay is best to make flat figures and to decorate crackers or cupcakes.
You can't keep this clay for long though. 
Read more for Candy Clay recipe...

Print This Page
---
---

Do you like Clayitnow?
Please click "LIKE" button to let us know and to encourage us to continue sharing our ideas and tutorials.  
Share your clay recipe
Do you have clay recipe you like most? Share it!