Clay-it-now:


Clay Art

&

Craft
Ideas Center 
Welcome to clay-it-now
So you are at Clay-It-Now.com 
Are you a clay artist? Cake artist? Home decorator? Jeweler? Parents who want to keep the kids busy during school holidays? Sunday school teachers need some idea or student looking for craft project idea? 
Welcome to my website!
Whoever or wherever you are, if you are clay art and craft lovers and looking for craft ideas, you are at the right place.
Like you, I called myself clay lover. Yeah..I am not shy to tell you that I love playing with clay.
I like the material because clay is a versatile medium to express my creativity.
It doesn't really matter whether it is an air dry clay or oven baked. Clay is the most exciting art material and readily available for specialist modelers and everyone to play with.

Why Clay Art and Craft?

Firstly, let's see the meaning of art and craft. Art was defined as the expression or application of human creative skill and imagination, typically in a visual form such as painting or sculpture.
And, craft is an activity involving skill in making things by hand.

To me, it's very clear that clay is one of the best materials to express our creative skill and imagination through our own hands to form 3 dimensional model or art piece.
It helps to bring out the artist and child in us.
You'll have fun exploring the wonderful world of clay art and creating clay models with clay-it-now.
It feels magical to see a lump of clay turning to something. And, yeah...you can create almost everything with clay. 
What type of clay do you have?
Yes! That the first question for you to answer if you want to start crafting with clay. 
Do you have clay? Most of us may have experience playing with clay in primary school but if that was in the past, I mean decades ago, you may want to read my article about type of clay that you can buy.
If you are the type of person who doesn't mind to get your hand dirty and like to experiment a little bit, you may like making your own clay. 
If that so, visit my homemade clay recipe page. 
Bear in mind, you may get confuse with many types/ varieties of clay you can make by yourself though. Also, you may not be successful at first attempt. 
I would suggest you to make small amount of clay once you choose the recipe you like,  tweak it if necessary to suit your situation and make it your own.  
Anyway, if you are not sure about making homemade clay, please don't make the clay. Yeah..don't waste your time and money - just buy it! :)
Nowadays, there are many types and brands of clay in the market. It could be oven baked or air dry. To find out, visit this page: What clay to buy?
Choose the type of clay that you think will suit your craft project.
If you are new and has no idea what to make, tutorial in this website might be helpful for you. It's all FREE!


Let's get creative with clay-it-now:
Are you ready to create your clay model? What do you want to make? Animal figurine? This is popular especially if you want to make farm scene, cake topper, jewelry or just as decoration.
Check out my animal figurines page. You will see many information like how to design and make figurine from scratch with air dry clay.
Yes! like most of people, I start making animal figurine by following other artist and learn from the book. But, at the end, I've found my own way to interpret the object and create my own figurine style.
Surely, you will be able to do that too!

This is adorable!
In clay-it-now website, you will also see some idea of how to make cute "mini-me" figurine with clay - done with soft clay, cold porcelain clay and flour base homemade clay.
You will learn how to simplify the shape of the person and capturing his/ her unique dress or personality so we can recognize the figurine as "mini-me" of someone in a glance.

Crafting with Kiddos

If you are looking for holidays craft for Christmas, Thanksgiving, Easter and other easy craft idea, my clay projects for kids tutorial might be useful for you, your kids or students.
You may have tonnes of new ideas after seeing those tutorials.

Going mini?
Oh ya...are you interested with miniature? Yes? If yes, visit miniature clay art page. You'll see tutorial to make easy object like fruits, vegetable, and other simple things.
The list is not long by now but I plan to make more tutorial for miniature in future. 

All seasons bloom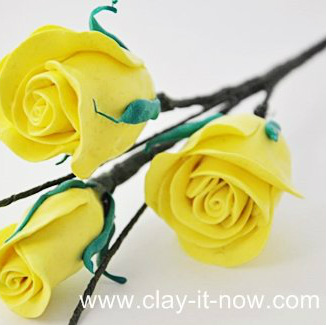 Don't forget to visit clay flowers page.  Flowers are delicate and sometimes complicated. 
When you visit my page, you'll see that I like to make clay flower without mold. This is my way to simplify the flower shape and form so it's easy for us to make them with air dry clay. 

Made with our own hands :)
I often asked "how to make cartoon character figurine". Though not many, you'll see my creations and tutorial at creating cartoon character page.
Please contact me if you want to see specific character. I might consider making a tutorial whenever possible.

Imagination & Creativity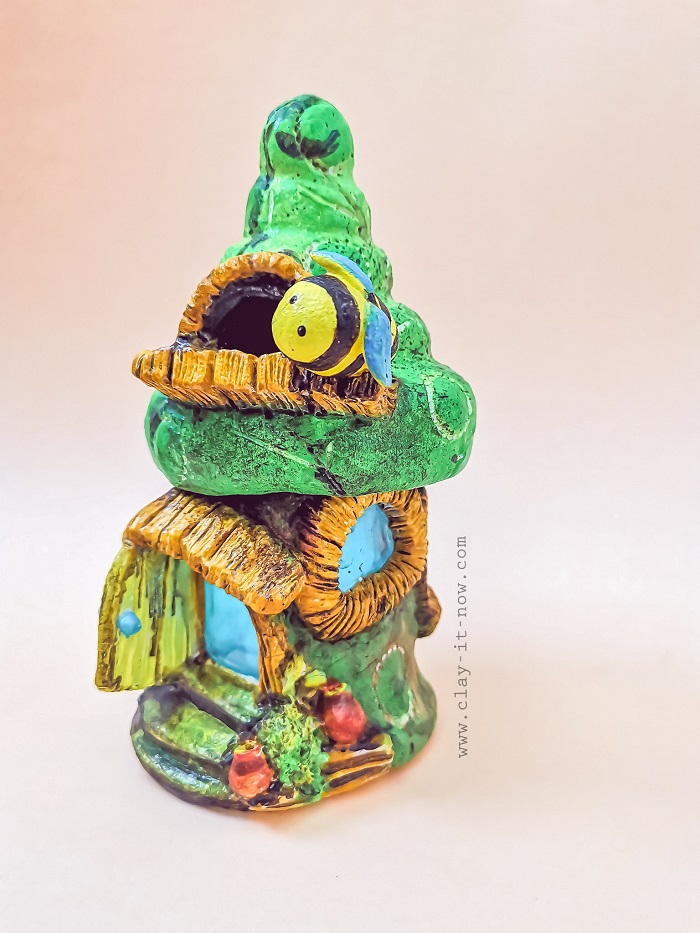 I am recently falling in love with fairy house.

Regardless of whether you believe in fairy or not, I've found that creating fairy house is very rewarding.
The feeling is magical when I am done with the project. Visit my fairy house ideas and tutorial page and you might be inspired to make one :)
And..there is more ideas and tutorials to discover on this site. Be sure to check out my site map for an index of many of the pages on clay-it-now website.
Thanks for being here! 
Btw, have you made any clay project? would you like to publish your pictures and story at this site? If yes, please use "share your craft" form below.
Now, let's play!

Ps: I also have video tutorial published at Youtube. Please visit clayitnow channel, LIKE, SHARE and SUBSCRIBE. Thank you for your support!
| Clay-it-now | 
---
Find tutorial:
You can use below search button to bring you to tutorial subject you like in this website.
---

Please LIKE, SHARE and SUBSCRIBE to support my channel. 
---

Shopping:
---
Share your craft
Do you make your craft? Share it!