Modeling Clay Recipes,

Recipes to  Make  Homemade  Clay  &  Play Dough
It's my pleasure to share my modeling clay recipes with you. 
I've written about how easy it is to make figurines with clay as you have seen in my  tutorials but I didn't mention about the recipe for clay.
I received comments and questions from you about the clay I used,  where and what clay to buy, how to make air dry clay and what is the different between air dry and  oven-baked clay. 
Well, I can't answers all your questions here but if you continue browsing my website you will find the answer for sure.
So here I am ready with play dough and clay recipes for you to explore.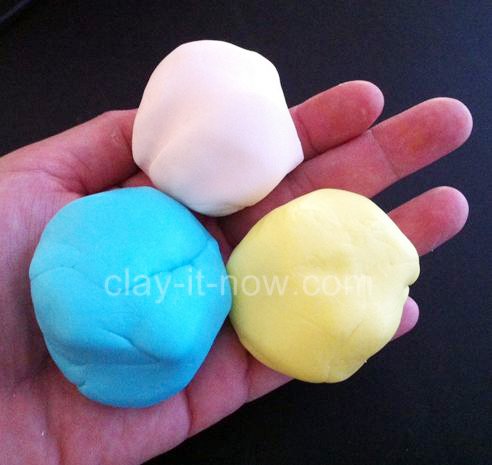 Our Favorite Modeling Clay Recipes:


Tissue Paper Clay Made with Homemade Glue (Squishy Clay)

Probably this is the first you've ever seen tissue paper clay recipe without PVA glue and without joint compound :)
After trying this recipe I am quite like it. What else to ask? This modeling clay recipe is  cheap, stretchy and squishy :)
Read more for Tissue Paper Clay...
Best Homemade Clay

We call this the best of all modeling clay recipes we've ever tried so far because it is stretchy when we knead it well, no cooking and less shrink compared to the cooked cold porcelain clay. 

It's good for miniatures, figurines and flowers. And, it dries faster compared to other clay recipes. Love it!
Read more for Best Homemade Clay...
---
Cold Porcelain Clay without Glue

This clay is good for kids to play when making simple object like 2 dimensional ornaments with cookie cutter. It's a good replacement for salt dough because the surface is smoother and appeared whiter than other dough. 

We won't recommend you to use this for figurines because it's not stretchy enough and once you mold the clay, it has to stay in that shape until it's dry. This clay is less flexible compared to cold porcelain with glue.
Read more for Cold Porcelain Clay without Glue...
---
No Cook Play Dough
This type of modeling material is best for kids at any ages even as young as 1 year old. But, supervision is always good when baby and toddler playing with it.
You need only about 15 minutes to make this type of dough. However, this quick and easy clay may not dry fast depends on the humidity level and climate in your home country. 
Read more for No Cook Play Dough...
---
Salt Dough (Baked & No Bake)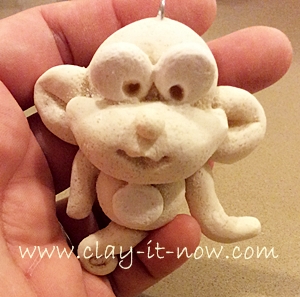 This type of modeling material will dry hard like stone after sometimes. It's easy to make but the texture won't be as smooth as others. You may need to use sand paper sheet to make the surface smooth so you can paint it. This is good for hanging decorations for Christmas tree, as well as figurine. 

Read more for Salt Dough recipe...
---
---
Soapy Clay

I like soapy clay for its texture and fragrant. The soap added to the clay ingredients will also help to preserve your model. And, it will dry hard. Good home-made clay for miniatures!
Read more for Soapy Clay recipe...
---
Cold Porcelain Recipe

I love cold porcelain clay. Compared to other recipes, this clay has the most variations. I tried more than 10 type of recipes and finally settle down with my own mixtures.
You may have your own version too when you feel comfortable with the final result of your clay. 
This is my best clay to make wedding or birthday cake toppers, favors and souvenirs. 
Read more for cold porcelain recipe...
---
Candy Clay

It is an edible modeling dough for young artists who are into cake decorating. This sweet clay is best to make flat figures and to decorate crackers or cupcakes.
You can't keep this clay for long though. 
Read more for Candy Clay recipe...
---
Cold Porcelain for Flowers

Arni makes beautiful flowers with delicate petals using cold porcelain for flowers that has the look and feel to Japanese air dry polymer clay. She shares her recipe here.

Read more for Cold Porcelain for Flowers recipe...
---
Marshmallow Clay Recipe 
The clay made with marshmallow is very flexible and yet dries very hard. Eva Stosic shares her recipe and tips with us. She added mint extract to preserve the clay mixture.  

Read more for Marshmallow Clay Recipe...
---
Baker's Clay Recipe 
According to the story passing down from our eldest, the clay was called "baker's clay" because the bakers were the ones started making nice little ornaments during holiday seasons to sell or to give away to their customers with this clay.

Doreen Lindahl sent us her Baker's Clay recipe from her old steno notebook to share with us.

And, we've made Mother's Day craft with this clay. Check out our video tutorial below.
Read more for Baker's Clay Recipe...

---
Have you tried any of our modeling clay recipes yet? have you made any craft with it?
What is your favorite modeling clay recipes?
Do you have clay recipes to share? We would love to hear from you. Please share your picture and story here.
Tips:
We have received many questions asking how to protect the items made with homemade clay.
Well, we use Sculpey glaze for certain items but most of the time we use 2 type of glaze as shown in my video below :) 
---
| Home | Design Starter | What Clay to Buy | Best Homemade Clay |
---
---

Print This Page
---
---

---
Do you like Clayitnow?
Please click "LIKE" button to let us know and to encourage us to continue sharing our ideas and tutorials.  
---