Marshmallow Clay Recipe
by Eva Stosic
(Hamilton Canada)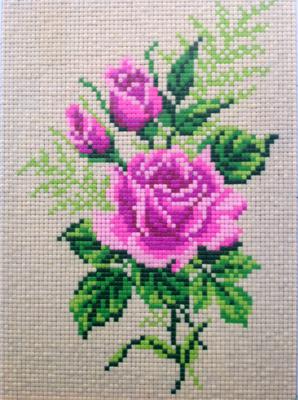 Clay Mosaic - Rose made from cross stitch pattern
Hi, I love doing clay crafts. I like experimenting with homemade clay recipes and see the possibilities of creating crafts with clay.

I would probably be the only one who have ever done the clay mosaic using cross stitch pattern like the one you see in my rose and cat wall decorations.

I like the clay I made with marshmallow because it has unbelievable elasticity and dries very hard. When I added mint extract to the mixture, the clay last for long. l still have some of clay I made 3 years ago in a container and it is still good, no mold.

The clay I've made starts with squirt of baby oil, 1/4 tsp of mint extract, 1tsp icing sugar, 1tsp liquid hand soap and 1/2 cup white glue mix until creamy and heat in a microwave until very hot. When it is still hot, put in the mix about 6-8 mini marshmallows and keep mixing until dissolved then add the starch mix.

The starch mix is an equal part (about 1/2 tsp) of potato starch, tapioca starch, arrowroot starch, rice flour and cornstarch. Mix it well and cook in microwave on short intervals many times, mixing it in between intervals and stop the cooking as soon as it becomes sticky.

Knead the clay well on a work surface and add more starch when needed.

The clay will pull like warm toffee, dries very hard, shrink a little bit but never crack.


---

| More Clay Recipes |

---
---

Please LIKE, SHARE and SUBSCRIBE to support my channel. 
---

Shopping:
---
Share your craft
Do you make your craft? Share it!
What Other Visitors Have Said
Click below to see contributions from other visitors to this page...

Raspberry Branches with Berries - Cold Porcelain Clay

Hi! My name is Ekaterina Selezneva. I make different flowers from cold porcelain for 5 years. A month ago I decided to make a number of raspberry branches …