Clay Characters for Kids, Book by Maureen Carlson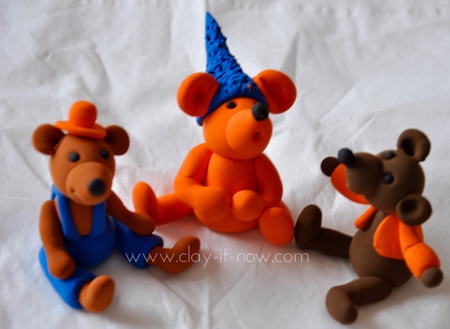 Clay Characters for Kids is the first book I read when I started learning how to make figurines.
The clay book which was written by polymer clay artist Maureen Carlson is inspirational. I felt like an artist overnight when I finished my Bear Family figurines using  air dry clay following her step-by-step tutorial.
The bears soon became my first trademark and loved by everyone in my family. I've made them for key-chains and  pencil-toppers.
I would say I was enchanted when I read the Magic of Storyclay projects from page 44 to 78. The characters that I thought were difficult and need special skill to make have been made easy by Maureen. She guided us to make:
Thistledown Will
Rainbow Goblin
The Forest Elf
Sea Serpents
Dog and Cat
Flower Fairy
Table and Bench
Clay Characters for Kids
Based on the tutorial in her book, I created my own version of clay characters. Here is  my  Elf and Leaf Fairy :)

Basically with 30 clay projects, there are a lot to learn and build everyone's clay modeling skill.

If you think this book will help you too, please feel free to visit  Clayitnow's store..

How to Make Clay Characters
 I also like Maureen Carlson's other book, How to Make Clay Characters. 
| | | |
| --- | --- | --- |
| | | You'll find lots of full-color pictures and detailed, step-by-step projects to lead you all the way—starting with simple, neighborhood kids, and progressing to more complex characters like Grandma and Saint Nick. |
You could learn how to make every detail just right, from hair to facial expressions to feet. When you get the hang of it, you can create lively little folks of your own imaginations. . .even personalized clay characters for special gifts.
No two will ever be exactly alike, but each one is guaranteed to make someone smiling. 
I've learnt how to capture the character of the person and creating mini me or cartoon me figurine from that book. One of the cartoon me characters  I like till now is a figurine of Italian football player, Pirlo. 

Here is the original picture of Pirlo which I don't have the link to the source. Please contact me if you know the source of the picture so I can give the appropriate credit. 
And, here is my mini me figurine, Football Player: 
Have you done any clay characters for kids? We would love to hear from you. Please send us your story and picture using the form here. Thanks!
---
| Home | Animal Figurine Books | Miniature Clay Books | Cartoon Characters |

---

Please LIKE, SHARE and SUBSCRIBE to support my channel. 
---

Shopping:
---
Share your craft
Do you make your craft? Share it!