Best Animal Figurine Books
My choice for best animal figurine books are 100 Fondant Animals for Cake Decorators by Helen Penman and Creating Life-Like Animals in Polymer Clay by Katherine Dewey.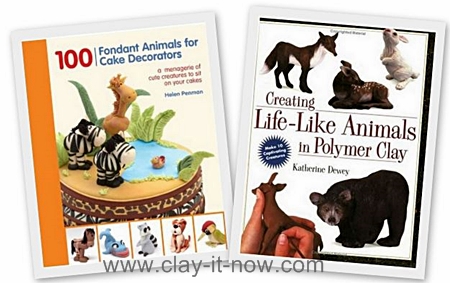 Fondant or Clay?
You may wondering why I am showing you a book about fondant animals instead of animal figurine with clay. Well, if you've been doing figurine with air dry clay you'll find that the modeling technique between fondant and the clay is similar.

However, If you are going to use the clay for cake topper you'll need to pay attention to it. Make sure you use only non-toxic clay. 
I would suggest you to use toothpick to hold the figurine and baking paper as separator between the cake and the figurine.
Cut the baking paper following the bottom shape and size of your figurine. Insert the paper to the toothpick and attach the figurine to your cake. 
The benefit of having animal figurine in clay? You can keep your creation longer than fondant. And, clay stay in shape in all seasons once it's dry. 
100 Fondant Animals for Cake Decorators
I like Helen Penman's style in designing her figurines. They are cute! Her step-by-step guide is also easy to follow. You'll find wide collection of sea creatures, farm animals, safari animals, reptiles, birds and many more. Basically you'll find any kind of animals for your cake design.
Below are her creations that I like most. 
| | | |
| --- | --- | --- |
| Tiger | Thanksgiving Cupcake | Orang Utan |
Here are my clay figurines based on the tutorial from 100 Fondant Animals for Cake Decorators
| | |
| --- | --- |
| | Walrus Figurine |

My best animal figurine books for creating life-like animals
Katherine Dewey is a well-known polymer clay teacher and sculptor.

Her book,  Creating Life-Like Animals book is my favorite book to learn about animals.
Her other book,  Creating Lifelike Figures in Polymer Clay: Tools and Techniques for Sculpting Realistic Figures is amazing too. I've learnt a lot from it. 
I would say these two books are essential for self-taught artist from beginner to advance level.
She explains all necessary steps needed from preparation to completion of each projects making sure that everyone will be able to follow her to create the figurine successfully.
So what are your best animal figurine books?

We would love to hear from you. Please share your story and experience with us using the form below.
Please also follow our Facebook page for update.
More on animal clay books...
---
| Home | Clay Characters Books | Miniature Clay Books |

---
---

Please LIKE, SHARE and SUBSCRIBE to support my channel. 
---

Shopping:
---
Share your craft
Do you make your craft? Share it!