Clay Lovers Blog
The Clay Lovers Blog lets you know when new or updated pages appear on clay-it-now.com
Don't miss our new clay creations, tips, ideas, updates and free tutorial.
Dec 25, 2021
Amazing air dry clay recipe: No cracks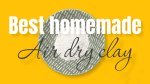 Let's make air dry clay recipe that will work every time with no cracks.
---

Please LIKE, SHARE and SUBSCRIBE to support my channel. 
---
Share your craft
Do you make your craft? Share it!
---

Shopping: