Heart Shape Vase, Mini Planter or Pen/ Pencil Holder DIY - Valentine Gift Idea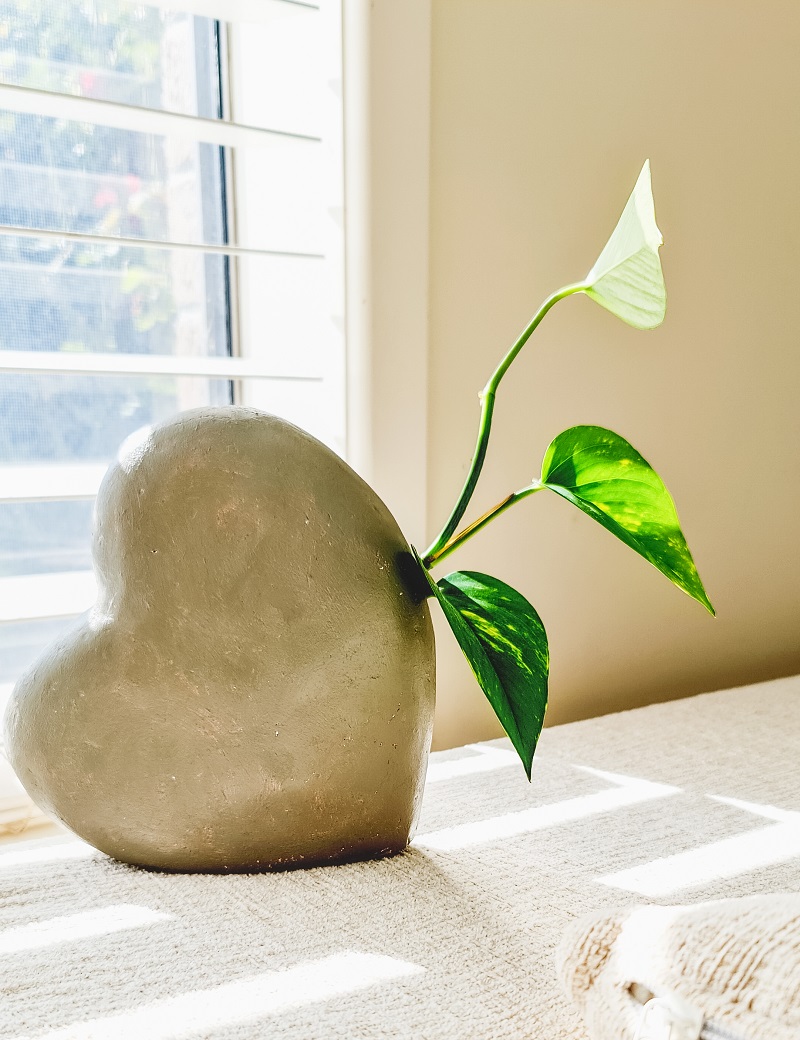 How to make heart shape vase or planter with air dry clay which we can pour water in to the vase? Aha...I got an idea! Let's use aluminum tube (vitamin tube waste) and carboard. 
Tadaa...it works! look at this picture. My devil ivy plant seems happy live in there :)
Oh ya, this time I paint my heart shape vase with grey. It looks like cement. The color blends nicely with our interior, perfect for our living room Love it! 
Honestly, it is very easy to make this heart/ love shape that I can quickly make many of them in different sizes and paint it with different colors/ finishes. 
You can use this craft as pen/ pencil holder too. And, you can change the style of this heart/ love shape to suit your occasion/ purpose. 
I think this heart shape vase/ pencil holder would be nice for Valentine's gift. Don't you think so?
Alright! are you ready to make one?
Steps to make heart shape vase:
Firstly, fine something longitudinal like Berocca tube or something similar which is big enough for pencil holder. Alternatively, you can use glass test tube for the vase/ planter.
Start with placing/ positioning the tube on the carboard. Mark the length of the tube and then draw heart/ love shape freehand. If you like perfect heart shape, you can copy or download the heart shape from internet and resize it to suit your tube. I didn't provide any link here because you can easily find them. 
For me, I like asymmetry heart shape. It looks cute and childish. 
The next step is to cut the carboard. Make 2 heart shapes from cardboard. Attach the curve part of heart with hot glue gun/ two points and then secure it with masking tapes/ painter tapes.
Next, cut 2 rectangular shape cardboard with length about half of the heart shape and bigger then the gap of those 2 heart cardboard.
Paste those 2 rectangular pieces to the top and bottom of heart shape. Cut the hole at the tube opening area.
Then, cut the rectangular cardboard following the heart shape.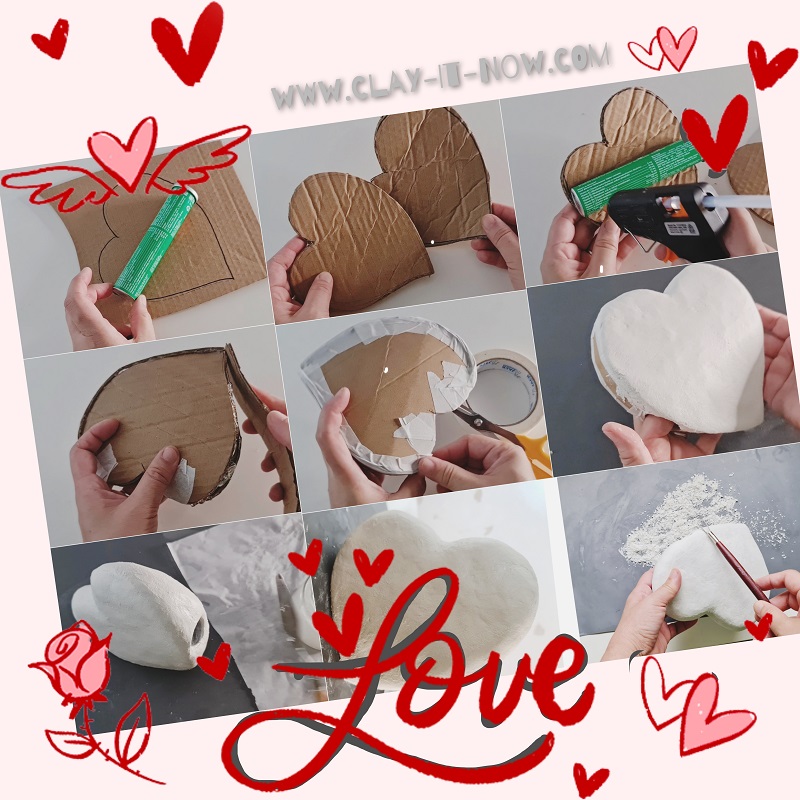 Next, I use masking tapes to cover the side of the carboard - whole heart perimeter. 
After that, I cover the whole heart shape vase with air dry clay. 
I use homemade air dry clay but you can use store bought clay like Das clay or Crayola air dry clay or whatever clay suit you best. Check out my article "what clay to buy" if you are new in clay craft.
You can pat the wet clay or use water to smooth the clay. When the clay dry, I use pottery tool to shave the clay and finally sanding it with sand paper.
Final step? Paintings! yeah...this is when you decide how you want your heart shape vase looks like. Elegant? romantic? cute? shabby chic? well...you decide then. :)
If you watch my video (click below image), you'll see that I use pink acrylic paints as basic color, dabbing some gold paints, and splattering with burnt umber color. 
By the way, please remember to subscribe to Clayitnow youtube channel for more craft ideas.
Thank you for your visit and support.
---
| Home | Back to Top | Easy Clay Project Ideas |

---

Please LIKE, SHARE and SUBSCRIBE to support my channel. 
---

Shopping:
---
Share your craft
Do you make your craft? Share it!