How to make gnomes clay in a pair using mini jar?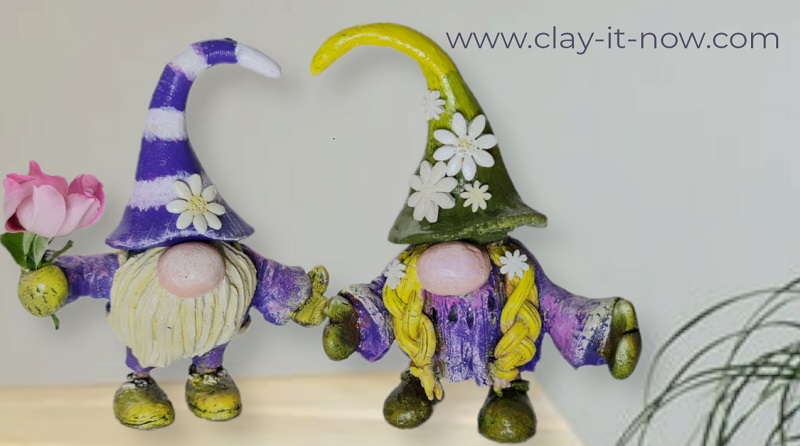 How to make gnomes? Honestly, there are many ways and materials to make gnomes. You can use socks, fabric, wool, cement, wood, and of course clay. What clay? Any kind of clays! ceramic clay, polymer clay or air dry clay.

I have done many style of gnomes but I have not done a girl or female version. This is my first attempt and happy to share the result with you. 
So, I make a pair of gnomes. They look perfect together :) 
You can make this gnomes for sale, or gifts - Valentine's gift? 

How to make gnomes with air dry clay?


First of all, let's make the armature or structure of both gnomes. 
First step, I cut wooden chopstick to about 5 cm or 2 inches and wrap the bottom part of it with tin foil - add hot glue gun to stick the chopstick to the foil. And, make the shoe shape with that foil. Make sure that you have solid shoe. This is very important. Otherwise, your gnome will not be able to stand properly.
Then, I use mini jar to form the body shape. The jar itself is almost round so, I only add a little bit of tin foil to make it perfect round shape.
Stick the jar to the top of chopsticks/ legs. 
Next, make a cone shape from cardboard. Paste this cone shape to the lid of the jar with hot glue gun. Then, add tin foil to make curve shape hat on top of the cone.
I use tin foil to make basic shape of the arms. You can skip this if you have firm clay. I prefer to have tin layer of clay, that why I use foil to shape the arms.
Make 2 set of gnome armatures like below picture.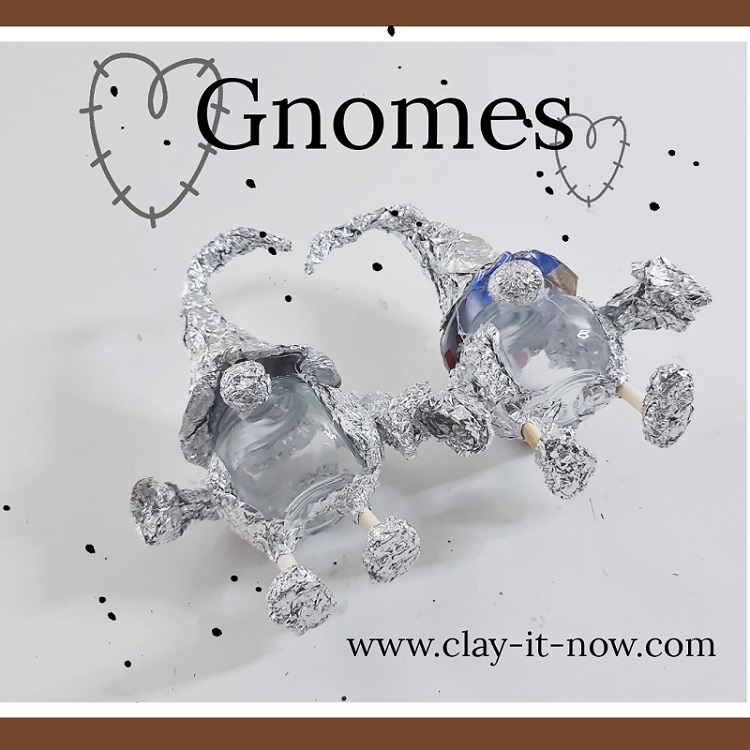 Next step is to cover the structures/ armatures with air dry clay. Well, I choose air dry clay because I am used to it. However, you can use oven baked polymer clay for this craft project if you familiar with that. 
So, what type of clay to buy? You can find more info at my page here. 
You can also make your own clay if you want. I use homemade air dry clay this time.
After the clay  dry, paint the gnomes with acrylic paints. Feel free to choose the colors and style/ design and painting technique you like. I choose purple, pink, yellow, and green. 
And, I use dry brush technique to layer the colors. That's it!
Btw, you can watch my video for detail tutorial. Click on the image below. Please remember to subscribe to Clayitnow's YouTube channel, so you'll be notified when new video uploaded.
Thanks for your visit.
Hope this article has answered your question on how to make gnomes with clay.
---
| Home | Back to Top | Kids Clay Project Ideas |

---

Please LIKE, SHARE and SUBSCRIBE to support my channel. 
---

Shopping:
---
Share your craft
Do you make your craft? Share it!