Salt Dough Recipe

(Baked and No Baked Salt Dough)
Salt Dough Recipe here has been tested in my kitchen and it's work!
The result may vary depends on the way you knead the dough or set the oven temperature but keep trying if you are not satisfy with your result at first attempt. 
No baked dough would be a sure success one but of course will take longer drying time. 
Time: 10 minutes 

Tools & Materials
Measuring cup
Bowl
Cling wrap
Baking paper
Oven
Rolling Pin
Cookies cutter

1 cup (250 ml) plain flour
1 cup (250 ml) table salt
1 cup (250 ml) boiled water
a small drop of cooking oil
How to make salt dough?
Mix flour and salt in a bowl.
Make a hole in the center and pour in boiled water little by little (use glove to protect your hands or spoon to mix the flour if the water is too hot).
Mix the flour, salt and water, add water as necessary until it's not crumbly.
Knead the dough about 5 minutes until it's smooth.
Add the cooking oil to make the dough soft, pliable and smoother.
Put some of the dough on the baking paper, use your rolling pin and use your cookie cutter to make various shapes for  hanging decorations or napkin rings. You can also mold the dough to make figurines or sculptures.
Turn on the oven to 325 degree Fahrenheit or about 160 degree Celsius, bake the object you made as above for about 1 hour (or less depends on the size & quantity) or until it's hard. 
Wrap the rest of the dough with cling wrap and store in a fridge.   
No Baked Salt Dough


I made salt dough leaf pendant with this recipe recently but without baking. It looks good though :)
Here is my pendant: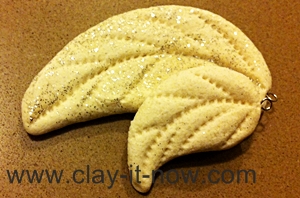 We've also received requests from our web visitors to make a tutorial for rose salt dough without baking.
Many of them had a problem to keep the petals in place. It seems okay when the dough wet but crumbly when it's dried. 
But, we don't have a problem at all when making the rose with our salt dough recipe. Click on the picture or link below to see our tutorial.
And, these are 12 animal signs in Chinese zodiac with baked salt dough. It's baked in the oven at 200 deg C for 20 minutes.

Alright! If you are ready to make the salt dough and would like to see how we make the dough, check out our video tutorial below.
We would like to suggest you to subscribe to our channel if you want to receive notification when we have new videos. 
Salt Dough Recipe Video Tutorial

Salt dough recipe tips:
If the dough in the fridge dries out, add few drops of water and knead it well before start making a model. 
Apply white glue if you see crack lines on your model after baking. 
Painting after it's completely dry: use acrylic paints, water color or oil paints.
Coloring salt dough before kneading: mix warm water with few drops food color of your choice.
Last but not least, please check out our tutorial on how to paint salt dough. 

Update:
I make bear figurine with salt dough recently and I use microwave to speed up drying time. It works well. 
So, now we have 3 drying method for salt dough.
Microwave salt dough bear video tutorial
---
| Home | Design Starter | Clay Recipes | No Cook Play Dough | Soapy Clay |
---
---

Print This Page
---
---

---
Do you like Clayitnow?
Please click "LIKE" button to let us know and to encourage us to continue sharing our ideas and tutorials.  
---