Salt Dough Rose:
Simple Flower without Mold and No Bake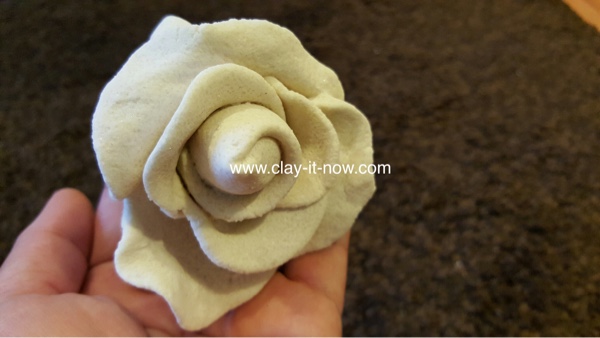 This salt dough rose is air dried, no baking and we don't use mold or cutter at all. Friends told us it even looks prettier than those made with mold. Thanks guys for your encouragement :)
Honestly we've made many rose clay with cold porcelain clay, soft air dry clay and  polymer clay - baked clay and non baked clay like Makin's air dry clay (btw, Makin's clay is good because it will dry hard like other baked polymer clay). Check our page about what clay to buy if you want to use store bought clay instead of homemade clay.
Anyway, some of our website visitors wrote to us asking if we could show them the steps to make rose flower without mold in salt dough. No worries! 
So here we are sharing our tutorial with you all.

Steps to make no bake salt dough rose:
First of all, make the rose bud backing by rolling, squishing and shaping aluminium foil on the wire as flowerstem.

After that, wrap a small and flat salt dough around the aluminium foil. Stop here. Wait until the dough dry before continue with the next step.

We use our 3 months salt dough that we've kept in the fridge. Jump to our salt dough recipe page if you don't have it.

Next, make 3 rose petals by pressing a ball shape dough in between your palm.

Don't worry too much if you have different shape size and thickness.

Again, let the petals dry.

The color of the dough becomes whiter when it's dry.

You may see that one side of the petals lower that the bud. It's purposely though. But, ideally the petals should have the same height with the bud :)

After that, make another 3 petals. Use tissue paper dto keep the petals in place and in shape. Wait until the petals dry.

You can color the flower with oil base paints or just apply clear nail polish or varnish to protect the rose in natural salt dough color.

Video Tutorial:

We hope the above step-by-step guide photo is helpful. But, we've received requests from some of our fans asking us to share our video tutorial for no bake salt dough rose. 
So, we've done it and happy to share the video with you. 
Have fun all!
Salt dough Rose, No Bake & No Mold
---
---

Please LIKE, SHARE and SUBSCRIBE to support my channel. 
---

Shopping:
---
Share your craft
Do you make your craft? Share it!