Calla Lily, 

Favorite  Flower  for  Hand  Bouquet
Calla Lily is almost everywhere in Australia but not in Asia. It's kind of rare in the countries like Indonesia, Malaysia and Singapore. It's an expensive flower there.
At certain period of time, this type of Lily flower is favorable for hand bouquet and other wedding decorations. 
I like this flower for its simplicity and purity.
And, the best of all is it's very easy to make a bunch of Lily with air dry clay.
Let's have fun....

Materials & Tools
White, yellow and green air dry clay. You might want to check out my homemade clay recipe. If you like to have scented clay, try soapy clay but I would think cold porcelain clay is a better choice for flower making.  If you want to buy the clay, Japanese air dry polymer clay is nice for flower.
Rolling pin
Clay knife
Toothpick, needle tool, brush or texture tool
Flower wire
Flower tape (optional)
Baking/ Wax paper

Steps to make Calla Lily:
| | | |
| --- | --- | --- |
| | | Roll yellow clay (or other colors) to a tapered sausage shape for stamen at about 5 cm or 2 inches. |
| | | Cut  flower wire and wrap it with flower tape or with green color clay. Leave the top part uncovered and insert the wire to the yellow stamen. Use brush or needle to create texture. |
| | | Roll white clay color to a ball shape and then change the shape to a teardrop |
| | | Flatten the teardrop clay shape with your rolling pin. To get a nice petal, cut the clay with your clay knife. Smooth the edges with rolling pin again and lightly pull it out a little bit to make the petal looks  natural. |
| | | Attach the petal to the stem and  wrap it around the stamen. |
| | | Wrap the petal around the stamen from one side (you can start from left or right) and then the other side overlapping each other. Press the bottom part of the petal to the stem lightly. |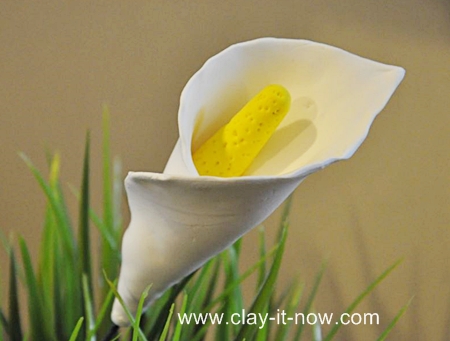 You've done with your first Calla Lily now. Make about 15 to 20 flowers, tied the stems with ribbon and voila.....you have a hand bouquet.
Or, arrange them with other flowers in a vase to brighten up your room. 
You can also make a miniature Lily for earring, pendant or bracelet charm. It would be a nice addition to your Shopify online store.
Well, you might have more ideas. If you make the flower following this tutorial we want to see your picture or hear your comments. Please use the submission form here to share your work with us. 

Flower Design Resources:

I've found some books are inspiring. These may give you ideas  to develop your own design. 
---
---

Please LIKE, SHARE and SUBSCRIBE to support my channel. 
---

Shopping:
---
Share your craft
Do you make your craft? Share it!