best Homemade Clay

Yes! This is our favorite...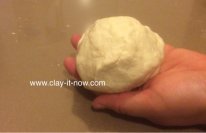 We are not shy to say to tell you that this is indeed the best homemade clay we've ever made.
Finally, we've decided to share our recipe with you after receiving so many nice comments from our website visitors about our cute mini figurines. 
Yes, you right! most of those cute little things were made with this clay.
It's a kind of cold porcelain clay we should say but this is much easier to handle - no cooking, simple - no stearic acid or other unfamiliar stuffs, has a good stretch, and have never been failed us so far :) 
This recipe was inspired by the homemade clay made for Chinese dough figurines. If you've ever seen the clay, you'll just love it. It's smooth, soft, and the Chinese artisan said will last for decades. 
Anyway, you will never get the complete and detailed recipe from them. Trade secret? Well, at least after some searching and experimenting, we are very happy with our own homemade recipe. It's our pride and joy to share the recipe with you all. 
Let's get to the detail now.
Here is the step to make our best homemade clay
Tools and materials:
1 cup (250 ml) plain flour
1/2 cup (125 ml) Elmer's glue or wood glue
1/4 cup (60 ml) cornstarch or corn flour
Moisturizer (hand/body lotion) - we use Vaseline
1 tsp olive oil (or cooking oil)
1/2 tsp vinegar 
Btw, you can add more vinegar if you feel that the clay is still hard after kneading but not too much please. 

Alright, firstly pour all the above ingredients to a plastic container.
We don't recommend bowl or things from your kitchen where you use it for foods because we use glue here. Even though the glue is non-toxic, we just don't feel good about it. 
Honestly, we prefer to use baking paper. Just place it on top of kitchen bench and pour all ingredients onto it. 
Next step is mixing and kneading. Knead well until clay soft and stretchy. 
That's all basically.
For storing, use cling wrap and put it in sealed plastic bag.
This is simple and straightforward, isn't it? Anyway, we also have video tutorial if you want to see how we make our best homemade clay :) 
So, what do you think about our recipe? Please share your comment at our Facebook page. And, if you have recipe that you think is better than this one, we would love to hear from you. Please share your recipe with us at this page.

---
| Home | Design Starter | Clay Recipes | Cold Porcelain without Glue |
---

Print This Tutorial
---

---
Do you like Clayitnow?
Please click "LIKE" button to let us know and to encourage us to continue sharing our ideas and tutorials.