Clay Tools Store
Supported by Amazon.com, Clayitnow has now opened their clay tools store. We hand-picked the items for the store personally. You don't need to browse hundreds of pages for items you don't need. Save your time and focus on your works. 
I am sure you have seen my essential clay tools page by now. You might already have some of them. But, if you have not bought anything or can't find the tools you need, our store would be the right place for you to shop for clay tools.
If you just started with clay modelling, I would suggest you to buy basic and inexpensive tools like 3 pieces Makin's tool set for $4.84/set or Ostart's 8 pieces fondant modelling craft mold tool for $3.99/set. 
The 8 pieces Ostart craft mold tool provide almost anything you need for modelling. It has bone tool, shell & blade, ball, scallop and comb, serrated & tapered cone, bulbous cone and flower/ leaf tool. 
However, my all times favorite tool is 27 pieces Makin's Professional Clay Tool Kit for $30.34/set. It's expensive but a great investment if you are serious about modelling.

Looking for gifts at our clay tools store?
If that so, my suggestion would be 14-piece clay tool set with case from Pro Art or 14-piece deluxe clay tool set in zippered case from Art Advantage.
For those really into modeling craft, Precious Metal Clay and Art Clay 9 Piece Pro-Shaper Tool Kit for Sculpting and Shaping PMC, Art Clay, Silver Clay, Bronze Clay, and Fimo is one of the best gifts.
As for myself, my favorite are simple clay tools from Makin's clay, wheel embosser, and clay scraper. I have been using these items for few years by now.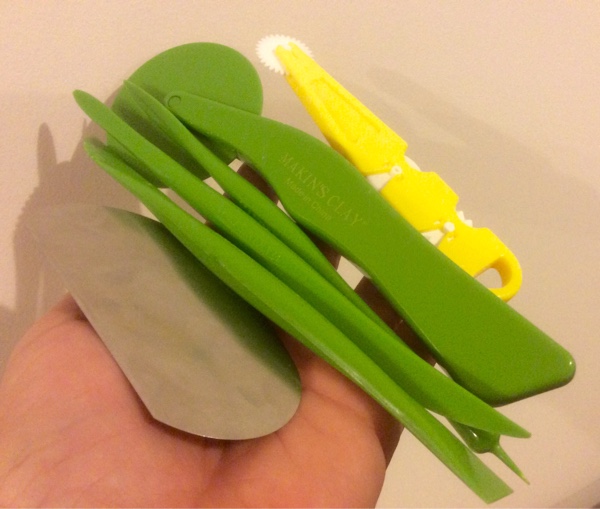 Well, whatever purpose or budget you have I hope you'll find the tools you need.

Find the tools:
Notes:
Most of the tools listed here can be used for clay, fondant or gum paste. But I am sure you don't want to mix the tools for those 2 different materials, do you? If that so, I would suggest you to buy 2 different sets of tools.
If you are thinking of buying the clay I would suggest you to check our "what clay to buy" page where you could see the pros and cons between air dry clay and oven-baked polymer clay. 
---
| Home | Design Starter | Clay Tools | Previous | Next |
---

Print This Tutorial
---
---

---
Do you like Clayitnow?
Please click "LIKE" button to let us know and to encourage us to continue sharing our ideas and tutorials.  
---