Easy Rabbit Figurine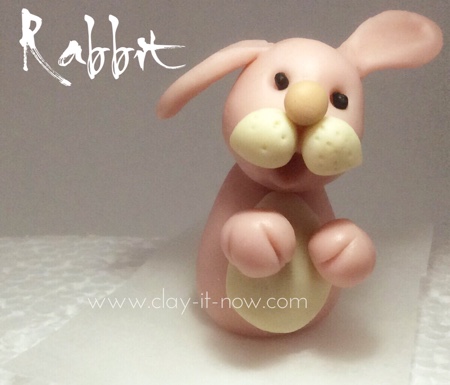 If you make easy rabbit figurine together with your kids, one of them may ask you, "where are the other two legs?" Good question!
This is a time for you to ask them to imagine that the rabbit is sitting on their back leg so, it didn't show up :)
Well, I'm sure you'll have a long conversation with your kids while making the figurine with them. 
Alright, let me show you how to make this rabbit clay.
Steps to make easy rabbit figurine:
First of all, choose your clay. I am using a home-made cold porcelain clay for this little project. I used pink, white, light brown and black clay color. 
As for the tools, I used clay ball tool and toothpick.

Let's make the head and face of the rabbit.
Roll pink clay to a ball shape at about 1/2 inch in diameter. You can make smaller or larger size if you like. If you want to make a big rabbit with head diameter about 2 inches, I would suggest you to use Styrofoam ball as backing. Cover the Styrofoam ball with clay and leave it to slightly dry. 
Press the eyes and mouth area with ball tool
Roll white clay to two small teardrop shapes and paste it on top of the mouth. Prick these with toothpick.
Next, make the body of the rabbit. Roll the pink clay again to an egg shape. Mine is about 1.5 inches long. Again if you make a big rabbit figurine, use Styrofoam egg shape for the body. 
Roll white clay to an egg shape, flatten it and paste it to the front part of the bosy.
You can insert the toothpick to the body and leave it to dry slightly and then attach the head on to the body.  

Roll 2 small round ball shapes in pink color clay, press the ball shape lightly on your work bench and make two lines with toothpick or clay knife. This would be the front legs.
And,  make small egg shape for the tail.
Paste the legs to the body and tail at the back. 
That's it. 
Did you make the rabbit figurine following our tutorial? Do you have different style? We would love to hear from you.
Please share your pictures using the submission form below or upload them to our Facebook page.
If you make a figurine based on our design ideas or tutorials, we would appreciate if you link your post or web page to www.clay-it-now as your source. 
---
| Home | Animal Figurine | Chinese Zodiac | Tiger | Dragon |
---
---

Please LIKE, SHARE and SUBSCRIBE to support my channel. 
---

Shopping:
---
Share your craft
Do you make your craft? Share it!