Lily Fairy House Jar Lantern Works with Homemade air dry Clay
This lily fairy house is kind of my experiment to create recycle craft with chili jar and homemade air dry clay using embossing technique that commonly used for pottery.
Someone asked me recently, "Do you like air dry clay more than oven baked?" Well, it's difficult to answer though because I like both.
But, I choose air dry clay because I can use  pottery technique but don't need to use kiln to dry it out. Yeah...I love pottery but I don't have kiln:) Anyway, both has clay as basic material with different level of hardness and properties.

I know air dry clay will never be as good as ceramic but I have so much fun creating lily fairy house with homemade air dry clay. It will be added to my collections and surely will last long after some surface treatments and varnished. 
oh..btw, good news! if you just started playing with clay and doesn't want to spend much buying clay or PVA glue to make your own, you can use salt dough as trial to get a hang of it.
Yes! surprise? Don't! I know many people think that salt dough will rotten. But, honestly this is most proven material that has been used around the world for ages. 
People creating all sort of crafts with salt dough and with correct surface treatments, your craft will last for looooong/
But, those salt dough that stay good for long is the oven-baked type :)
Alright, let's back to our lily fairy house and start crafting now.
How to make lily fairy house?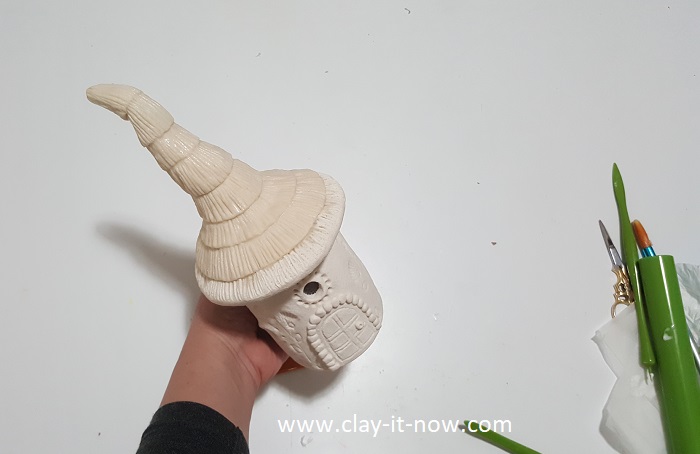 FIrst of all, you have to cover the jar with clay. And then wrap the lid with aluminium foil, form the roof to the shape you like. Again, cover the roof with clay.  When you finish, you will see something like above picture.  
Did you notice that dry clay color different from wet clay?
Btw, beside of clay color, you can also check if the clay has dried or not by tapping the clay lightly. If you hear loud noise, that means the clay has dried :)
You can embossed the pattern on the jar, make fairy door, jamb and windows. Lastly, create simple lily flower by making 6 petals with hands. Yeah...you don't need mold or cutter.
You can visit clayitnow youtube channel to see how simple it is to make lily without cutter.
After the clay dry, I used gesso universal primer white color. This layer will protect the clay surface, make it waterproof and preparation for painting with acrylic or watercolors.
You'll see our lily fairy house turned to plain white now. Actually I like it white. I want to stop here but finally I've painted this with green acrylic color for roof and pink for lily as you can see below.
At the end, I've found that green fairy house won't match my snowy fairy garden scene.
So, I've added more gesso primer to make the impression of snow. 
Did you see how flexible crafting with air dry clay it is? Yeah...we can change our mind and re-design the look of fairy house.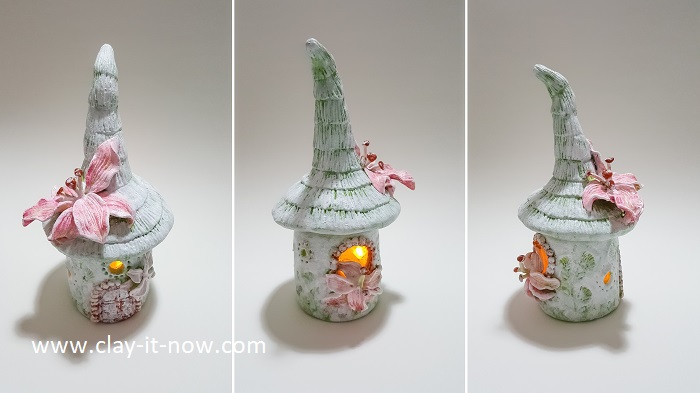 Do you know what? After I've finished creating fairy house with snow theme, suddenly my customer (a little kid for sure :)) told me that she want to have fairy house with magical look and some kind of mystery so she can check out on the house and see if fairy visiting the house...oo....
Alright! I wasn't panic at all. 
I paint the fairy house with acrylic paint burnt umber with bronze metallic finish as highlight. Voila, it turns to different kind of fairy house. And, everyone was happy with it. So, that's itf! I am done with my lily fairy house craft project :)
---
| Home | Top of the Page | Next Project |

---

Please LIKE, SHARE and SUBSCRIBE to support my channel. 
---

Shopping:
---
Share your craft
Do you make your craft? Share it!