Burger Clay Jewelry
Steps to make burger clay jewelry: 
Burger clay jewelry in 20 minutes. Too good to be true? I don't think so. I just found out how easy it is to make our own jewelry. 
I made my burger clay after reading one of my favorite miniature clay books, And, with a little bit of creativity I did my head-turning necklace and earring. 
Materials & tools: 
Polymer clay or air dry clay (ADC) in pale yellow, brown, green,red, yellow and white color clay. I use air dry clay in this tutorial (we recommend you to use Makin's Clay - it will dry hard). Please go to 

what clay to buy

 page for more information if you are not sure. You can also make your own clay with our 

modelling clay recipes

.

White PVC glue

Craft varnish

Pastel or watercolor with paint brush
Steps to make the burger: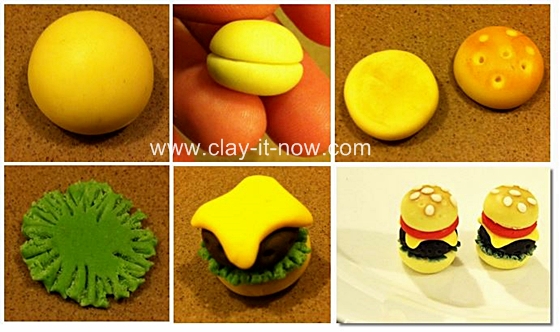 Prepare your clay in light yellow or beige color for the bread, green for vegetable, yellow for melted cheese, brown for the meat, red color for slice tomato and white for sesame seeds.
Roll beige color clay to a ball shape with diameter about 1.5 cm or to your preference. Use your clay cutter to cut the ball to 2 parts. Pierce the top part with needle. And, use pastel or watercolor to make toasted bread effect.
Roll your green clay to a small ball shape (about 0.5 cm in diameter), flatten it and cut the the edges irregularly. 
Roll the brown clay to a ball shape and press it lightly with your fingers, and poke the clay with your needle or toothpick.
Roll the red clay to a ball shape and flatten it with the diameter about the same with the bread size. 
And then make your melted cheese from yellow clay color. Make a small cube shape, flatten it and pull the 4 corners out.
When you have prepared all the components, attach all the components together with glue layer by layer.
Finally, roll white clay to small oval shapes for sesame seeds and paste it on top of the bread. Your burger clay is done!
Update:
Recently we make a burger with no cooking homemade clay and very happy with the result because it looks like store bought polymer clay :) 
Try our latest recipe and share your experience or crafts with us using submission form at this page.
---
| Home | Miniature Clay | Vegetable | Fruits |
---
---

Please LIKE, SHARE and SUBSCRIBE to support my channel. 
---

Shopping:
---
Share your craft
Do you make your craft? Share it!