Mini Baby Girl Clay Figurine
Material and tools to make mini baby girl clay figurine: 

Steps to make mini baby girl figurine:



Prepare clay in pink, white, brown, light yellow and flesh color.
Head: Take your flesh color clay and roll it to ball shape. Press the middle of the clay with your baby finger and move your finger back and forth. 
Body: Roll your white clay to a cone shape with height approximately 2 centimeter or as you like. Leave it to dry completely.
Hands: Make 2 long and slim cone clay shape in white color and roll 2 small ball shape in flesh color. Attach the clay ball to the cone shape (arm).
Milk Bottle

: 

Roll white clay to oval shape and than flatten the narrow end. Roll small ball shape in yellow color, press it with your finger and attach to the bottle. Roll small flesh color clay to an oval shape and glue it to the yellow clay.

Poke the head with toothpick and let it dry. Next, glue the nose, and ears to the head with white glue. Make a smile line.
Give the baby nice hair with brown clay. You can start by rolling a ball shape, flatten it with your rolling pin and cut it with scissors or clay knife. 
Baby's scarf: Take your pink clay, roll it to oval shape and flatten it with your rolling pin. 
Press the edges of the scarf like picture to make it nice and pretty.
Wrap the scarf around the baby girl's head and use white glue to secure it. 
Draw the eyebrows and eyes with your black marker.
After the head and the scarf dry, attach it to the body with white glue.
Next, glue the arm and milk bottle to the body.
We've done now.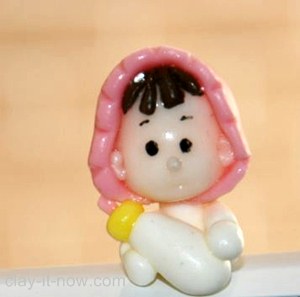 Did you make the figurine following this tutorial? We would love to see your picture. Please share it with us using our submission form.  You can also post your picture to our Facebook page.
Thank you. Please also subscribe to our YouTube channel for more tutorials.
---
---

Please LIKE, SHARE and SUBSCRIBE to support my channel. 
---

Shopping:
---
Share your craft
Do you make your craft? Share it!