Red Carnation
This red carnation is ideal for any occasions including wedding, home decoration and hair accessories. 
It's a flower of love, passion, affection and adoration.
We don't use cutter or mold to make the petals and yet it looks so natural :)
Tools & materials:
Air dry clay (homemade clay would be nice for flower but you can also buy air dry polymer clay) in green and red color
White PVC glue
Clay knife/ scissor
Rolling pin
Frilling tool
Fork
Floral wire
Preparation time: about 30 minutes

Steps to make red carnation:

I started my flower by kneading the clay for few minutes until it soft  and then make a ball shape with size about 1/2 inch.
After that, I've flatten the  ball with rolling pin and frill the edge. No worries if you don't have tool. You can use chopstick though. But don't forget to add a little bit of baby lotion/ oil and frill the edge with this. 
The next step is pulling out the edge of the circle with fork. 

Repeat the above steps and make three pieces of the basic petal. 
I cut two of the petals to four pieces each and leave the other one as it is. 
I've made 3 slits halfway to the center on the round petal.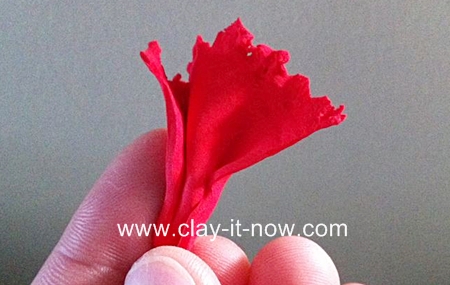 Let's go back to the 8 quarter pieces of the petals. Squeeze the tip of the quarter petal and do the same for those 8 quarter pieces of petals. 

Now, make a small loop at the top of floral wire and then insert it to the center of the petal that was still in one piece .
Close the petal to the center of the loop and at the same time turn the wire clockwise and squeeze the bottom part. 
We can then attach all 8 pieces of quarter petals one by one, overlapping each others until you are happy with the flower shape.
Lastly, cover the bottom part of the flower and also the wire with green color clay.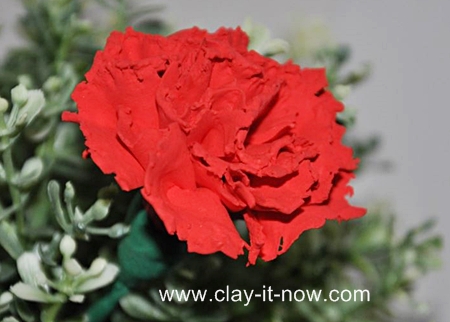 We've done with our red carnation flower.
Did you make this flower? How many of them? Was it for bouquet ? How do you put them together?
Or, was it for accessories and jewelry like brooch? hair accessories? We would love to hear from you and see your creations.
Please send us your flower picture or story using this submission form. 
By the way, I have added video tutorial to make it easier for you. Thank you for watching.
How to make carnation clay flower easily?

Flower Design Resources:
I've found some books and things for clay flowers are inspiring. These may give you ideas  to develop your own design. 
---
---

Please LIKE, SHARE and SUBSCRIBE to support my channel. 
---

Shopping:
---
Share your craft
Do you make your craft? Share it!