Rooster Figurine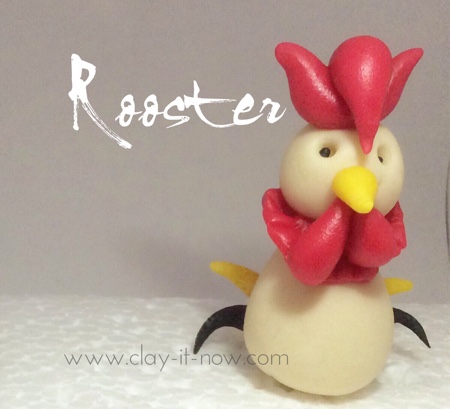 We've made the  rooster figurine based on an image  found on the internet with a little bit of modification. But I can't go to the webpage and I lost the link. If anyone know the source I mentioned please contact me and I'll be happy to link to that source and give them a proper credit :)
At first, we want to make the figurine from soft clay but as you know the soft clay will not dry hard. We want to make the rooster dry hard. 
If you want to make it dry hard too, type of clay suitable would be air dry homemade clay like cold porcelain clay without cooking or conventional cold porcelain clay. Or, you can buy an air dry polymer clay or oven baked polymer clay. Or course the air dry one will be easier to handle.
Steps to make a rooster figurine: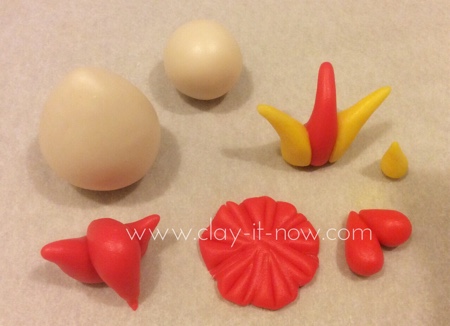 Knead your clay well.  Here I used clay in light cream, red, yellow and black color.
Roll the light cream clay to a ball shape about 1 cm in diameter for head and a teardrop or egg shape with length about 2 cm. Insert toothpick to the body and leave it until it almost dry. 
Roll two small teardrop shapes in red color clay for the wattle (I hope I that's the right name. These are something that hanging below the beak).
Roll small ball shape, flatten it and use clay knife to make some lines on it (I don't have a name for this part but I'll paste this on top of the body).
Make a yellow bill by rolling yellow clay to a small teardrop shape.
Make another two teardrop shapes in yellow color for back feathers, one red color and finally 2 black color of teardrop shape (the black ones were not in the above photo because I added in to the back of the rooster after it almost finish). 
Lastly, make two short pipe shapes in red color, sharpen both edges and place one crossing another. This would be the comb and placed above the head.
Don't forget to make 2 small ball shape for the eyes.
Paste all parts of clay you've prepared and that's it. Your rooster figurine is ready.
Did you make the rooster clay figurine following our tutorial? Do you have different style? We would love to hear from you.
Please share your pictures using the submission form below or upload them to our Facebook page.
If you make a figurine based on our design ideas or tutorials, we would appreciate if you link your post or web page to www.clay-it-now as your source. 
---
| Home | Animal Figurine | Chinese Zodiac | Monkey | Pig |

---
---

Please LIKE, SHARE and SUBSCRIBE to support my channel. 
---

Shopping:
---
Share your craft
Do you make your craft? Share it!