Sunflower Clay on Recycled Jam Bottle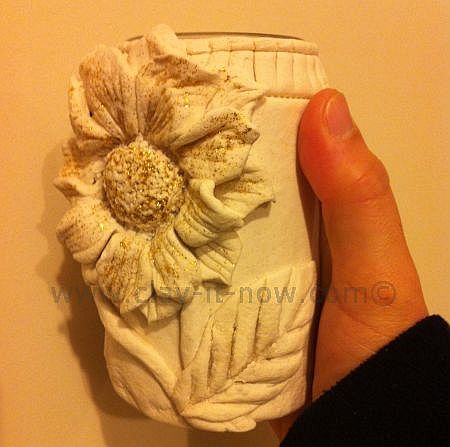 This sunflower clay was handcrafted on recycled jam bottle. Isn't it a good idea for your kids to learn another recycling craft while playing? 
We used  no cook playdough to cover the bottle and for the flower. Similar to this but stronger when it's dry would be no bake salt dough. It's really easy to make, cheap and fun for all ages. 
We did this craft in 20 minutes with drying time about 4 days. I think it would dry faster if you put the jar under the sun :) as we did. 

Steps to make sunflower clay or salt dough :
Don't forget to clean your jam bottle thoroughly and let it dry completely.
Lay baking paper sheet or wax paper on your kitchen table.
Get your homemade clay/ dough and roll it to a ball shape with diameter about 8 cm.
No worries if it is too much or not enough to cover your bottle because you can always keep the balance or add more clay.
Change the shape from ball to pipe shape and use your big rolling pin to flatten the clay/ dough.
Put on your bottle on the flatten clay, roll it until whole surface covered. It's not necessary to have 100% smooth surface. Uneven or textured surface is fine though. It will look natural and artistic. 
By the way, I didn't cover the bottom part of the bottle because I like it that way. I want to see the base when I put things in the bottle.
Step 2:

Make about 18 teardrops clay shapes for flower petals and one flatten round shape for the center.

Step 3:

Flatten the teardrop with your fingers. Add veins to the petal with your clay tool. 

Step 4:

Arrange your first 9 petals on the bottle in a circle. Then, place the flatten round shape in the center. Use fork, needle or toothpick for the texture.

Step 5: 

Arrange the other 9 petals on top of the first layer of petals. We would recommend you to have irregular petal sizes with a little bit bending at the side to make it look natural.
Add the stem and leave or other decoration as you like. You have complete sunflower clay now.
By the way,  I added gold glitter to the petals and center of sunflower after it's dry.
If you like bright color flower, you can paint it with oil paints.

Flower Design Resources:
I've found some books and things for clay flowers are inspiring. These may give you ideas  to develop your own design. 

---
| Home | Clay Flowers | Calla Lily | Peony |

---
---

Please LIKE, SHARE and SUBSCRIBE to support my channel. 
---

Shopping:
---
Share your craft
Do you make your craft? Share it!