Summer Fairy House Idea using balloon, paper mache and homemade  clay
I make this summer fairy house without lamp.
Yeah...I am kind of tired with fairy house lamp and also because my little customers ha..ha..you know what I meant.. gave me a brief to create a round house with steps and openable roof where they can keep their secret teeny tiny treasures. 
Round house? ehm...how to make round fairy house? 
Well, I should go with ballon, shouldn't I? Yup! That's what I can think. So, you are right! I make this fairy house using balloon. 
I could straight away adding clay on top of the ballon like I did with mini barrel jewelry box project but many of you may not have good air dry clay which can stand alone, doesn't shrink much and will not crack during drying process. 
So I use paper mache. I wrapped the balloon with newspaper and homemade paper mache glue. 
When the newspaper dry, it dries hard and gave me sturdy shape. This way, I don't need thick clay. A thin layer of clay would be enough to smooth the newspaper surface.
Now, you may have question what type of clay I use. 
Well...I use my best homemade clay as a base and tissue paper. So, it's paper clay, isn't it?
Honestly, beside of that fix best homemade clay,  I am flexible with my recipe.
Sometimes, I just add few pieces of tissue paper and sometimes I add about 100 gr of my tissue paper clay on to about 300 gr best homemade clay.
Really...I follow my gut feel and my hands. Sorry guys...you need to do some experiments to get it right when you work with homemade clay :)
But, don't worry too much. If you are new in clay craft I would recommend you to buy the clay from your local craft store or online. 
You can check my page to see what clay to buy before buying the clay.
And, I choose summer as my theme because I was thinking about floating beach hut with thatched roof and leaves around the house. 
So...yeah...that's the background of my summer fairy house design.
How to make summer fairy house?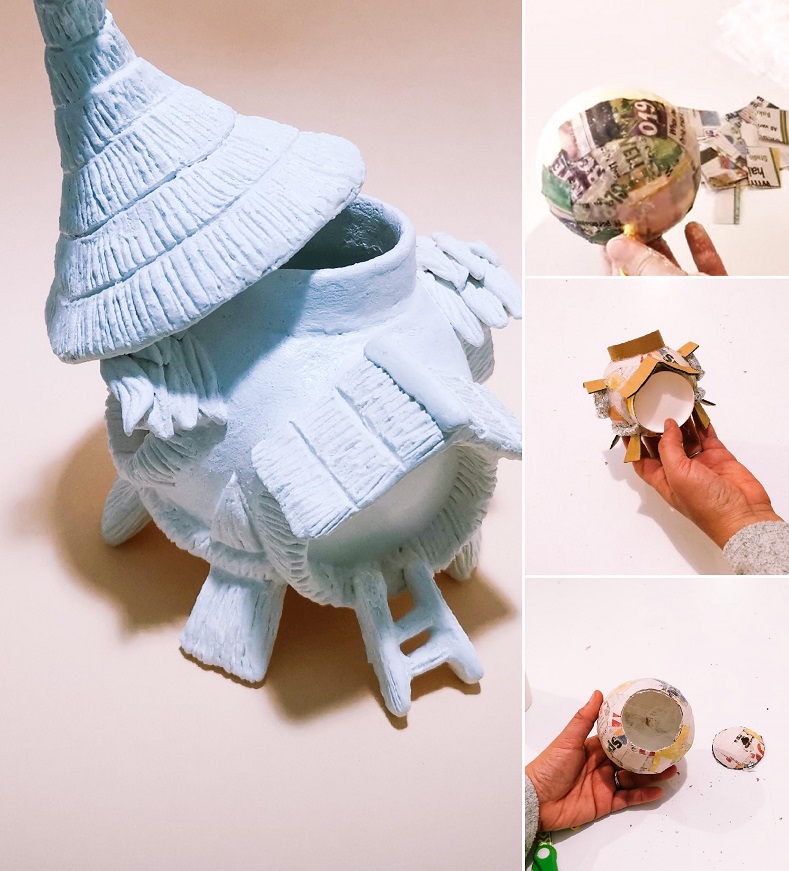 Alright! It's very easy to make summer fairy house.
Once you've the round shape with paper mache, add all elements you need to support your design. 
Here I use trash ehm...used paper coffee cup base for fairy door, cardboard from used packaging for thatched roof above the door and imaginative timber stumps to support the house. 
Also, I used aluminium foil to make the roof shape. 
After I have done building the basic shape of the house, I use homemade air dry paper clay to cover all surfaces. 
Leave it to dry and then apply a layer of Gesso universal primer to seal the clay and to prepare the clay surface for painting.
Choose your preferred color scheme and paint the house. That's it.
For details, watch my video tutorial below. 
---
---

Please LIKE, SHARE and SUBSCRIBE to support my channel. 
---

Shopping:
---
Share your craft
Do you make your craft? Share it!